Speakers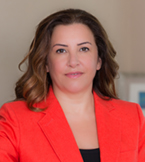 Sadan Kaptanoglu
Chief Executive Officer
Kaptanoglu Shipping

Dr. Sadan Kaptanoglu, after graduating from the Philosophy Department of Istanbul University Faculty of Literature, studied shipping in London City College. She holds an MSc degree in Shipping, Finance and Trade from City University Cass Business School and she holds a PhD degree from De Montfort University.

After working as the Managing Director of H.I. Kaptanoglu Ship Management Company until January 2014, she became the chief executive officer of Kaptanoglu Shipping.

On 6 June 2017 at the BIMCO General Meeting in Rome Sadan Kaptanoglu was elected as President Designate of BIMCO thereby becoming the first woman to reach that position.

Sadan Kaptanoglu is the chairperson of TURMEPA and vice president of INTERMEPA.

She is the Chairman of Turkish Committee of Lloyd's Register.

She is the Chairman of Turkish Committee of RINA

She is the first winner of Seatrade awards "young person of the year" in 2008, in London.

Sadan Kaptanoglu is married and has two daughters.