Speakers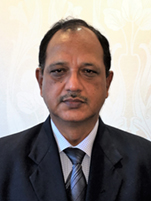 Suresh Sinha
Managing Director
Indian Register of Shipping

Mr. Suresh Sinha, with a strong experience of over 37 years drives overall growth strategy at Indian Register of Shipping (IRClass). He has shouldered multiple responsibilities & managed operations at several locations during his long tenure with IRClass.

In his previous role at IRClass, he was Head of Operations of all marine survey stations globally. During his sailing career, he worked with Shipping Corporation of India Ltd. in various capacities including as a Chief Engineer on multiple ship types.

He was member of the IACS Quality Committee and a member of IACS Working Group on ISM Code and has actively contributed in the development of IACS PR-9 & PR-10. He was also a member of the Expert Group on 'Safety of Surveyors'. He led a few subgroups within this expert group for the development of new IACS Recommendations.