Speakers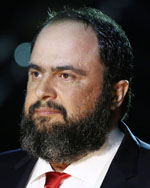 Evangelos M. Marinakis
Chairman and Founder
Capital Maritime & Trading Corp.

Evangelos Marinakis is the founder and Chairman of Capital Maritime & Trading Corp. The Capital Group currently provides technical and/or commercial management to a fleet of 80 vessels with a total dwt of 8.3 million tons approx. including 47 tankers, 7 LNGs, 21 containers and 5 bulk-carriers. The fleet under management includes the vessels of Nasdaq-listed Capital Product Partners L.P. ('CPLP') and NYSE-listed Diamond S Shipping Inc. ('DSSI').

Mr. Marinakis has a successful track record of more than 30 years in shipping and capital markets having successfully completed two IPOs and having grown the Capital companies throughout the shipping cycles, while at the same time maintaining low leverage. Mr. Marinakis has been also the architect of Capital's diversification from a dry bulk company two decades ago into product and crude tankers as well as containers and LNG carriers, having repeatedly timed successfully the newbuilding and second-hand asset markets.