Speakers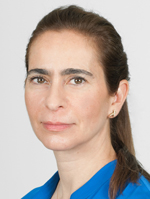 Semiramis Paliou
Deputy CEO - Diana Shipping;
Chairperson - HELMEPA

Semiramis Paliou has served as a Director since March 2015. She has served as Deputy Chief Executive Officer of the Company since October 2019 and as the Chief Operating Officer of the Company and Diana Shipping Services S.A. since August 2018. From November 2018 to February 2020 Mrs. Paliou served as Chief Operating Officer of Performance Shipping Inc. Mrs. Paliou has 20 years of experience in shipping operations, technical management and crewing. Mrs. Paliou began her career at Lloyd's Register of Shipping from 1996 to 1998 as a trainee ship surveyor. She was then employed by Diana Shipping Agencies S.A. From 2007 to 2010 she was employed as a Director and President of Alpha Sigma Shipping Corp. From February 2010 to November 2015 she was the Head of the Operations, Technical and Crew department of Diana Shipping Services S.A. From November 2015 to October 2016 she served as Vice President of the same company. From November 2016 to the end of July 2018, she served as Managing Director and Head of the Technical, Operations, Crew and Supply department of Unitized Ocean Transport Limited.

Mrs. Paliou obtained her BSc in Mechanical Engineering from Imperial College, London and her MSc in Naval Architecture from University College, London. In 2016 she completed a course in Finance for Senior Executives and in July 2019 a course in Authentic Leader Development, both at Harvard Business School. She is the daughter of Simeon Palios, the Company's Chief Executive Officer and Chairman, and is a member of the Greek committee of Det Norske Veritas - Germanischer Lloyd, a member of the Greek committee of Nippon Kaiji Kyokai and a member of the Greek committee of Bureau Veritas. Since March 2018, Mrs. Paliou is on the board of directors of the Hellenic Marine Environment Protection Association (HELMEPA) and in June 2020 she was appointed President of the Association.