Speakers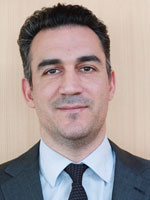 Vasilis A. Papagiannopoulos
Director
Common Progress

Mr. Papagiannopoulos has been a principal of Common Progress in Athens since 2008. Before joining Common Progress he worked for Dahlman Rose & Co in New York, DVB bank in Singapore and London, and Dromon Maritime in London.

Mr. Papagiannopoulos is currently serving on the Board of Directors of the Union of Greek Shipowners. He is also a substitute member on the Board of Directors of BIMCO and on the Board of the Hellenic Chamber of Shipping. He is also a representative member in the Social Affairs Committee of the ICS and the Labour Affairs Committee of ECSA.

He holds an MSc in Shipping Trade and Finance from Cass Business School and a BSc in Economics from Queen Mary and Westfield College London.