Speakers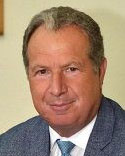 Stratos Papadimitriou
Treasurer of the Board
Maria Tsakos Foundation

He is a Professor at the Department of Maritime Studies of the University of Piraeus teaching maritime and logistic courses. He is also the Director of the Transportation Economics Laboratory.

He has been the Chairman BoD of the Athens International Airport, the Chief Executive

Officer of the Athens Urban Transport Organization and Chairman of Invest on Greece.

He has published more than 100 research papers and his work has been cited more than 4700 times.

He is an alumni of the City College of the City University of New York and of the Polytechnic Institute of New York University.