Speakers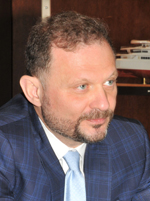 Panos T. Xenokostas
Founder & CEO
ONEX Technologies Group

Panos Xenokostas is the founder & CEO of ONEX Technologies Group, parent company of ONEX SHIPYARDS, owner of Neorion Syros Shipyards, Syros, Greece.

He is an international entrepreneurial player specialized in diversified industries and investments such as Aviation, Nanotechnology, ICT, Defense & Security, Shipbuilding, Maritime and Energy.

His vision is to create the leading American shipyard-port technology and logistics hub in East Med, based in Greece. In Greece, his companies directly and indirectly employ more than 1,500 people.

Panos T. Xenokostas is, now, in the phase of implementation of Elefsis Shipyard restructuring (2nd biggest shipyard in Greece), through a rehabilitation plan, which will be submitted in the courts, before the end of 2020.

In December 2019, he finalized the acquisition of Neorion Syros Shipyards, the 3rd largest shipyard in Greece and the oldest Greek heavy industry. The re-operation of Neorion Shipyards has changed the ship-repairing National Index after decades of decline. It should be noted that, 90% of the National Growth of this sector comes from Neorion Shipyard's operations.

He worked very hard and managed to establish strong industrial and strategic partnership between USA, Israel and Greece. Example of such an achievement, is the «Themistocles Program» (https://themistoclescorvette.com ). Themistocles is a platform, which will be built in Greece, utilizing US configuration, based on Israeli design, already, chosen and approved by Israel Navy. This Corvette aims to be the East Med defense security platform and choice of excellence for international markets. Furthermore, another milestone, which is also linked with the shipyard industry, is the teaming partnership with CISCO, in order to create the first CISCO's International Maritime and Innovation Center of Excellence, in Elefsis Shipyard.

Panos is a former Air Force Officer with BA in Aerospace Engineering, MBA in IUKB Swiss University.

He has been awarded several times for his achievements. Among other distinctions, he was awarded twice (2014 & 2015) as one of the 10 Best European Entrepreneurs in the European Business Awards contest. In 2013 and 2015, one of his companies, Glonatech SA participated to the CleanTech Open Global Ideas Competition and both times was placed among the top 5 contestants who presented the cleanest technologies.

Memberships include the Board of the GAEPIS, AHEPA New York, the Hellenic-American Chamber of Commerce, the Chamber's New Technologies Committee, the Hellenic Federation of Enterprises (SEV), Leadership 100, The Athenian VIP Club and The Hellenic Initiative.