SPEAKERS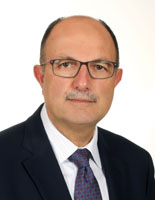 Stamatis Bourboulis
General Manager
Euronav Ship Management (Hellas) Ltd

Stamatis Bourboulis is the General Manager of Euronav Ship Management (Hellas) Ltd. since its inception in 2005.

In 1990 he joined the Technical Department of Ceres Hellenic Shipping Enterprises Ltd and in 2000 undertook the position of Technical Manager.

He graduated from the National Technical University of Athens as a Naval Architect and Marine Engineer in 1981 and has worked in the Chemical Industry, Ship Building and Ship Repair Shipyards in Greece.

He is a member of Intertanko Safety and Technical Committee, DNVGL and RINA Greek Technical Committee.