SPEAKERS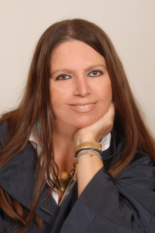 Angie Hartmann
Crew Manager
Starbulk S.A.

STUDIES AND EDUCATION
1984, University La Verne, attended courses.
1988, Graduated from Hosta International Leysin Switzerland, Diploma in Travel & Tourism / IATA

PROFESSIONAL CARRER
1989-1991, Geneva Airport TWA Airlines.
1993 joined a family owned company, Oceanbulk Maritime S.A. to the position of Assistant Crew
Manager and as of 1995 Crew Manager till 2011.
June 2011 – today, Starbulk S.A. position of Crew Manager.

LANGUAGES
Bilingual English / Greek
Fluent French

WISTA PRESENCE
Angie Hartmann has been an active member of WISTA (Hellas) since 1999.
She is also the President of WISTA (Hellas) since April 2014.

CONFERENCES – SEMINARS
Angie Hartmann is very active in the shipping sector and has participated in numerous conferences
and seminars both an attendant as well as a speaker.