SPEAKERS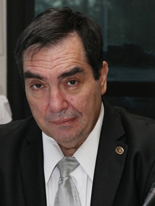 Dr. John Kokarakis
Director Technical Business Development
HBSA Zone
Bureau Veritas

John Kokarakis is a graduate in Naval Architecture & Marine Engineering from National Technical University of Athens (1979). He also holds graduate degrees from the University of Michigan (MSE 83, MSE 84 and PhD 86). He worked in various projects worldwide as a consultant/technical investigator of maritime accidents. The most notorious were the explosion of Space Shuttle Challenger, the grounding of Exxon Valdez, the explosion and fire of Piper Alpha, the capsize of drillship Sea-Crest and others. Furthermore, he was a consultant for numerous aspects on containership design, operation and repair. He has extensive experience in ship design and operations, spanning over forty years.

He is currently working at Bureau Veritas in charge of technical development and troubleshooting. He focuses on the implementation of the "green" regulations, fuel saving techniques, energy efficiency, speed and hydrodynamic optimization, resistance and propulsion, performance monitoring, ship design, machinery and safety, education and training, asset integrity management and alternative fuels.