SPEAKERS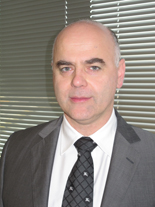 Dimitris Vastarouchas
Deputy Chief Operating Officer
Danaos Corporation

Dimitris Vastarouchas is Danaos Corporation Deputy Chief Operating Officer. Mr. Vastarouchas has been the Technical Manager of Danaos Shipping Co Ltd. since 2005 and has over 24 years of experience in the shipping industry. Mr. Vastarouchas initially joined Danaos in 1995 and prior to becoming Technical Manager he was the New Buildings Projects and Site Manager, under which capacity he supervised newbuilding projects in Korea for 4,250, 5,500 & 8,500 TEU containerships.

He holds a degree in Naval Architecture & Marine Engineering from the National Technical University of Athens, Certificates & Licensees of expertise in the fields of Aerodynamics (C.I.T.), Welding (CSWIP), Marine Coating (FROSIO) and Insurance (North of England P&I). He is also a qualified auditor by Net Norske Veritas and Certified Negotiator (SNI).