SPEAKERS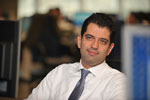 Managing Director Clarksons Platou (Hellas) Ltd.
General Manager
Technomar Shpping Inc.


Mr. Savvas Athanassiades is the Managing Director of Clarksons Platou Hellas Ltd. since March 2014 and he is responsible for setting up and developing the Greek S&P desk for Clarksons Plc, the biggest Shipping Services group in the world, listed in the London Stock Exchange. He joined the group in September 2004 when he was appointed Managing Director of Sales and Purchase.
Prior to joining Clarksons he was a Founding Partner (Mar. 2001 - Aug. 2004)  of ACM Shipping Services Ltd. (UK), a ships Sale and Purchase company, which was set up in partnership with ACM Tankers Ltd (UK). Between Jan. 1998 and Feb. 2001 he worked as a Sale & Purchase Broker at Seascope Shipping UK PLC, a major UK Shipbroking House, listed in the London Stock Exchange, specializing in the sale of Tanker Vessels. Furthermore, during the years 1996 and 1997 he was an in house Tanker Chartering broker for London Chartering Ltd., a company handling commercially part of the tanker fleet of World Tankers Singapore. In 1994 he joined Troodos Shipping & Trading Ltd. UK until 1995, as a Tanker Chartering broker and assistant in the Finance and Project Evaluation Department, working closely with the Principal on Sale and Purchase projects.
Mr. Athanassiades studied Bsc Hons in Technology Management at the University of Sunderland and later gained his postgraduate education at City University of London, Cass Business School, in the Shipping, Trade and Finance in 1994. A year later in 1995, he successfully completed all required exams for the Institute of Chartered Shipbrokers (ICS).