SPEAKERS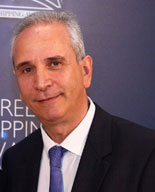 Dr. Loizos Isaias
Head of Maritime Service Centre & Advisory Region South East Europe, Middle East & Africa DNV GL


Holder of BSc and PhD degrees from the University of Newcastle upon Tyne in the UK, in Marine Engineering.
Started working at the University of Newcastle upon Tyne and Lloyd's Register of Shipping (1985-1989) at Newcastle upon Tyne, England, in connection with my PhD degree, as a member of the Marine Diesel Engines Condition and Performance Monitoring Research Team.
Teaching and demonstrating at Newcastle University on a part time basis, during the same period.
After University graduation, worked for Alassia Steamship Co. Ltd (1989-1992) in Piraeus, Greece.
Working for DNV since 1992, and now for DNV GL.
Current main positions/ functions with DNV GL include the following:
Manager of the Maritime Service Centre & Advisory in Region South East Europe, Middle East and Africa with responsibilities including ships plan approval, CAP, advisory services, Academies, pre-contract services for newbuildings, R&D, etc.
Key Account Manager with customers support and business development responsibilities for a large number of customers in Greece.
Project Manager of DNV GL's initiative to upgrade Greece to the company's 3rd home market (after Norway and Germany).
Secretary of the Greek Technical Committee.
Coordinator of the cooperation between the Union of Greek Shipowners (UGS) and DNV GL on technical matters.
Claus' shipping carrier started in 1988 and he has had various positions in tramp and container with several Danish shipping companies hereunder A.P Moller – Marsk and Torm before joining J. Lauritzen in 2006.
Claus holds a Graduate Diploma in International Business.