SPEAKERS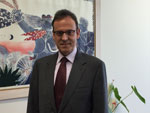 Kostas G. Vlachos
Managing Director
Consolidated Marine Management Inc.


Mechanical / Electrical Engineer graduated from Technical University of Athens.
For 15 years he worked as a representative member for the Hellenic Flag Administration in IMO and EU in Safety and Environmental committees.
He is currently the COO of Latsco Shipping Ltd and the Managing Director of the subsidiary company the Consolidated Marine Management Inc. having full control and responsibilities on technical and operational matters of the vessels belonging to the corporate company
Member of ABS, DNV-GL, LRS, National and technical committees.
Chairman of Intertanko Hellenic Mediterranean Panel and a Council representative of Greece member.
Member of the ExCom of Intertanko.
Member of Intertanko Safety, Technical and Environmental Committee (ISTEC) and of Intertanko Gas Committee.
Member of the common working group OCIMF-Intertanko, which was established in 2015 with the aim to reviewing and promoting Human Element matters of common interest.
Member of General Purpose Committee of SIGTO
Speaker in various fora related to Safety, Environmental and Technological developments, such as Intertanko, Mare Forum, Newsfront, Capital link, Lloyds Gas Forum, DNV-GL safety forum, Safety4Sea and others.