SPEAKERS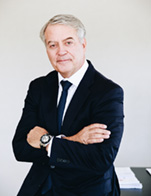 Apostolos Tamvakakis
Chairman of BoD & Managing Partner
EOS Capital Partners

Mr. Tamvakakis is the Chairman and Managing Partner of EOS Capital Partners Alternative Investment Fund Manager, the investment manager of a private equity fund "EOS Hellenic Renaissance Fund". He holds the positions of Vice Chairman of Gek Terna, Member of the BoD of Quest Holdings and Member of the BoD of Euroseas Ltd.

He has served as CEO of National Bank of Greece, Vice Chairman of Piraeus Bank, Head of Strategy and Business Development on the management team of the Geneva-based Latsis Group, Chairman and Managing Director of Lamda Development, Deputy CEO of National Bank of Greece, Deputy Governor of National Mortgage Bank of Greece, Deputy General Manager of ABN AMRO Bank, Chairman of AVIS (Greece).

He has been the Chairman or member of many Boards and Committees to several companies.

He is a graduate of the Athens University of Economics and holds an M.A. in Econometrics from the Saskatchewan University in Canada.