SPEAKERS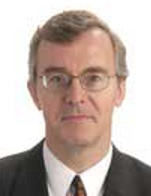 Bob M. J. M. Traa
Independent Economist
Formerly with the International Monetary Fund, including 3 years as Head of the Resident Office in Athens, Greece (2010-2013).

Bob M. Traa was born in the Netherlands, where he was educated at Nijenrode University before completing a Doctorate in Economics at the Universtity of Oregon in the USA. He then worked at the IMF for over 33 years before becoming an independent economist, based in Washington DC. He currently contributes weekly "Notes for Discussion; Essays on the Greek Economy" every Sunday in the Kathimerini newspaper.

Mr. Traa has deep experience with countries passing through an economic crisis, including in Argentina, Brazil, Ecuador, Greece, and Spain. He also was mission chief of IMF missions to Germany, Switzerland, and Sweden, among other countries. In 2009, Mr. Traa led the IMF mission to Greece that warned about unsustainable debt levels and problems with data reporting, followed by his 2010 assignment to open the resident office in Athens when the crisis started.