Speakers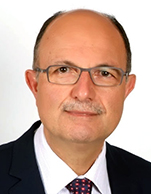 Stamatis Bourboulis
General Manager
Euronav Ship Management (Hellas) Ltd.

Stamatis Bourboulis (1957) has been General Manager of Euronav Ship Management (Hellas) Ltd. since its inception in November 2005. He was appointed to the Euronav Executive Committee on 1st of January 2019.

Following his employment in a chemical factory, ship building and ship repair shipyards in Greece, he joined Ceres Hellenic Shipping Enterprises Ltd in October 1990 as Superintendent Engineer and dealt with various types of vessels.

In 1997 he became Ship Manager for the Crude Oil Tankers and OBOs. In 2000 Stamatis Bourboulis undertook the position of Technical Manager for the Ceres fleet of Dry Bulk, Crude Oil, Chemical and LNG Carriers. He is a member of Intertanko Safety and Technical Committee (ISTEC), DNVGL and RINA Greek Technical Committee.

He graduated from the National Technical University of Athens as a Naval Architect and Marine Engineer in 1981.