Speakers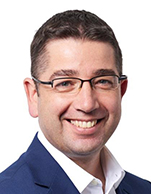 Nick Brown
Marine & Offshore Director
Lloyd's Register

Nick Brown joined Lloyd's Register (LR) in 1996. He worked as a ship surveyor in Bahrain, Dubai, Finland and Germany and has extensive experience of ship repair and conversion projects. In 2004 he returned to London to work on the development of LR's award winning "Hull Integrity" service - launched at Posidonia in 2006.

During 2005 Nick led LR's global tanker business at a time when IACS' Common Structural Rules (CSR) for Tankers were being finalised. Following the adoption of the CSRs in 2006, he moved to China, initially in a business development role as the shipbuilding market took off and new ship owners entered the industry. Subsequently, he was promoted to Area General Manager and Marine Manager for Greater China.

In October 2013, after seven years leading LR's activities in China, Nick was appointed Director for Business Development and Innovation - based at LR's Global Technology Centre (GTC) in Southampton. In July 2014, with LR's Marine business continuing to grow, he was appointed Marine Chief Operating Officer.

In January 2016 he was appointed Marine & Offshore Director, responsible for LR's entire marine and energy compliance businesses.

Nick's focus is on leading LR to meet the technical and commercial challenges facing the marine industry, providing the support, services and innovation needed to meet ever increasing safety, environmental and efficiency goals.

He is a graduate of Nottingham University, a Chartered Mechanical Engineer and a Member of the Institute of Mechanical Engineers and the Institute of Marine Engineering, Science and Technology.