Speakers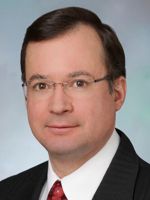 John Butler
President and CEO
World Shipping Council (WSC)

John Butler was named President and CEO of the World Shipping Council (WSC) in August 2015 after serving as the association's General Counsel since 2010.

Prior to joining the World Shipping Council, John was a Partner in the Washington, D.C. law firm of Sher & Blackwell, where he served as outside counsel to the WSC. For almost two decades, he advised liner shipping companies and trade associations on regulatory, commercial, security, hazardous materials, environmental, contract and anti-trust issues. He has represented the liner shipping industry in federal agency rulemakings, legislative activities, and federal court litigation on a broad range of security, environmental, regulatory and commercial matters.

John has been admitted to the bar in Maryland and the District of Columbia, as well as the U.S. Supreme Court and the U.S. Court of Appeals for the D.C., Ninth, and Third Circuits. He is a former President of the Maritime Administrative Bar Association.

John began his legal career as a Law Clerk in the U.S. Department of Agriculture's Office of Administrative Law Judges. He holds a Bachelor of Arts from Colorado College and a Juris Doctor, with honors, from George Washington University Law School.