Speakers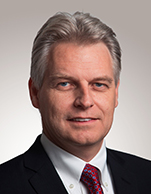 Kevin Mackay
President and Chief Executive Officer
Teekay Tankers Limited

Kevin Mackay was appointed President and Chief Executive Officer of Teekay Tankers Limited in 2014 and leads Teekay's fleet of conventional tankers, focused in the mid-sized tanker segments of Suezmax, Aframax and LR2s. Mr. Mackay joined Teekay from Phillips 66, where he headed the global marine business unit, responsible for all aspects of commercial marine transportation globally. He held a similar role as the General Manager, Commercial Marine at ConocoPhillips from 2009 to 2012 prior to the formation of Phillips 66. Mr. Mackay started his career working for Neptune Orient Lines in Singapore before joining AET Inc. Limited (formerly American Eagle Tankers Inc.) in Houston, where he ultimately rose to become Senior VP and Regional Director (Americas). He is a member of the Executive Committee of INTERTANKO and a Board Director of The International Tanker Owners Pollution Federation (ITOPF). Mr. Mackay holds a B.Sc. (Econ) Honors from the London School of Economics & Political Science.