Speakers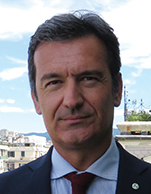 Paolo Moretti
Chief Executive Officer
RINA Services

Paolo Moretti holds the current position of Chief Executive Officer of RINA Services, the Company in charge of all the TIC activities within the RINA Group

Paolo began his career in the Classification Department of RINA in 1997. He was later assigned to the supervision of cargo vessels and cruise ships in Far East and Europe and became Head of the Pleasure Craft Product Line in 2006.

In 2011, he rose to the level of General Manager of the Marine Business Line, with a specific focus on cruise ships, marine R&D and technology innovation activities.

He is a member of the RINA Services Board of Directors since 2017.