Speakers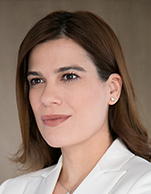 Natasa Pilides
Shipping Deputy Minister
Republic of Cyprus

Natasa Pilides is the first Shipping Deputy Minister of the Republic of Cyprus since the Deputy Ministry was set up on 1 March 2018.

Previously, she served as the Director General of the Cyprus Investment Promotion Agency since April 2016, responsible for the design and implementation of the Organisation's strategy in investment promotion, investor support and facilitation of reform, in close collaboration with the Cyprus government.

Natasa's work experience includes more than fifteen years in the private sector. She served as a Director and Regional Chief Operating Officer at Baker Tilly in South East Europe. For 9 years she worked at PwC, in Cyprus, Milan and London in the areas of audit and tax consulting.

Natasa graduated from Oxford University with a first-class honours degree with distinction in Modern Languages and Literature (French and Italian). She is a Fellow of the Institute of Chartered Accountants of England and Wales (ICAEW) and a member of the Certified Public Accountants of Cyprus (ICPAC).