Speakers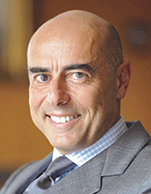 Ugo Salerno
Chairman & Chief Executive Officer
RINA S.p.A.

Mr. Salerno was appointed Chief Executive Officer of RINA S.p.A. in June 2002 and Chairman as from February 2012. Following his degree from the University of Naples in Naval Architecture and Marine Engineering, he moved to the Genova Sestri Shipyard. After about 3 years he joined Fermar in Ravenna, a shipping company involved in the transport of raw materials, first as Superintendent and then as Technical Manager. In 1988 he moved back to Genova where he became Fleet Manager and Director of Bulkitalia, part of the Coeclerici Group.

During his 14 years with Coeclerici he assumed several executive positions becoming, in 1996, CEO of the Shipping and Logistic activities and Vice President of Coeclerici Trading. While at Coeclerici he was also nominated Director of the Standard P&I Club.

From July 2003 to June 2004 he was appointed Chairman of IACS (International Association of Classification Societies).
From 2008 Mr Salerno is Director of ITIC P&I Club.
From 2009 to March 2014 he was Director of VSL Investment Fund.
From June 2011 to May 2019 he was Director of Fondazione Ansaldo.
From 2013 he is Director of the Galliera Hospital in Genova.
From June 2013 he is Cavaliere del Lavoro of the Italian Republic
From 2014 he is Member of the Global Board, TIC Council
From May 2014 to March 2015 he was Director of Ucina
From 2015 to 2017 he was Member of the General and Confederal Council of Confindustria (the main association of manufacturing and service companies in Italy)
From December 2016 to July 2019 he was Member of Cassa di Risparmio della Spezia SpA
From May 2018 he is Chairman of Promostudi La Spezia
From October 2019 he is President of Ligurian Group, Cavalieri del Lavoro of the Italian Republic.