Speakers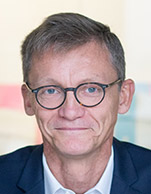 Matthieu de Tugny
President, Marine & Offshore
Bureau Veritas

Matthieu de Tugny has been promoted as President Marine & Offshore Operating Group in Bureau Veritas on the 1st of January 2019. Matthieu was Chief Operations Officer of the Marine & Offshore Division of Bureau Veritas group in 2017.

He graduated from the Ecole Nationale de la Marine Marchande and from the Ecole Supérieure d'Electricité in France, and began his career at Bureau Veritas in 1994, where he successively held different roles both in France and abroad. This enabled him to acquire a rich international experience. From 2007-2012 he was Chief Executive for Marine & Offshore activities in North America, based in Houston, before being promoted to Vice President for the South Asia zone, based in Singapore, a position he held until 2015.

In 2015 Matthieu was promoted to Senior Vice-President in charge of Offshore activities within the Marine & Offshore Division of Bureau Veritas based in head office at Neuilly-sur-Seine, France.

Matthieu is a member of various shipping and offshore associations such as SNAME and IADC, and is also a advisor on international trade for Singapore.