Speakers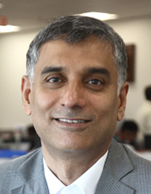 Rajesh Unni
Founder & CEO
Synergy Marine Group

Captain Unni is the founder and CEO of Synergy Marine Group, one of the world's leading shipmanagers, whose diverse fleet of more than 270 vessels includes some of the industry's most sophisticated vessels.

In a long, illustrious and continuing career he commanded tankers before coming ashore. He then served with distinction and keen business acumen in senior executive positions in Hong Kong and Singapore before launching his vessel ownership and management company. Education is Captain Unni's passion. He is a Class 1 Master Mariner graduate from Mumbai's LBS College of Advanced Maritime Studies and Research and has recently completed the Advanced Management Programme at the Harvard Business School. An influential thought leader, he also sits on the boards of the North P&I Association and the Asia-Pacific Advisory Committee for major classification societies and was recently appointed a Governor at the Indian Institute of Management, Tiruchirappalli. Driven by a firm conviction that the entire marine industry can evolve from analogue to digital, Captain Unni founded Alpha Ori Technologies (AOT), where he is joint CEO. He recently established AOT's Centre of Innovation in Singapore, which can remotely monitor, diagnose and control most operational aspects of digital vessels using AOT's patented software, SMARTShip. This has led to ClassNK approval, completed installation on more than 40 ships and another 60 in process, for which Synergy was proud to receive the 2019 SAFETY4SEA Technology Award, in Athens.

Welfare has always been high on Captain Unni's agenda, such that in 2018 Synergy established an endowment for those declared unfit for sea service but lacking adequate insurance. This provides funding to the seafarer and family in helping to establish sustainable alternative income.

Another of Captain Unni's global initiatives led to the creation of iCALL, a free psychosocial helpline for the worldwide maritime community in October 2018, Synergy again was proud to receive the Seatrade Global Award for 'Investment in people' in May 2019, at London.

A leading philanthropist and a trustee of the Cochin Cancer Society, Captain Unni has spearheaded one of Synergy's main CSR initiatives. The Synergy Educational and Charitable Trust focuses on alleviating poverty, eradicating hunger and empowering women and local communities in seeking a better future. He is also a strategic thought partner with leading changemaking network Ashoka and was recently nominated to the board of the Gandhigram Rural Institute, a university in Tamil Nadu and part of Mahatma Gandhi's vision for provincial children's education.

Captain Unni has often been recognised for his achievements and contributions. In 2018 he was honoured by the Mission To Seafarers Welfare Award for contributions to the seafaring community, and in 2019 he was named the CEO of the Year at the Shiptek Maritime Awards in Singapore and also received the Kashti Ratna ( Jewel of Shipping) award in the presence of India's Union Minister of Shipping, at New Delhi, in October 2019.