Speakers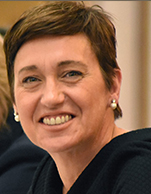 Katy Ware
Director of Maritime Safety and Standards & Permanent Representative of the UK to the IMO

Katy Ware, the Director of Maritime Safety and Standards, and UK Ship Register. Her key responsibilities are the United Kingdom's statutory obligations as a flag Administration in respect of the safety, security and protection of the environment from shipping, of United Kingdom ships, wherever they are operating in the world and foreign flagged vessels in United Kingdom waters. She is also responsible for the safety of the United Kingdom domestic passenger ship and fishing fleet as well as the United Kingdom Navigational safety regime and Civil Hydrography Programme. She was also responsible for seafarer services and audit of MCA approved Nautical Colleges and training providers. She became responsible for the UK Ship Register in 2019.

Katy is also the Permanent Representative of the United Kingdom to the International Maritime Organization.