Speaker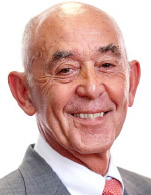 Peter Cremers
Vice-President - BIMCO
Executive Chairman - Anglo-Eastern Group

Peter Cremers is the Executive Chairman of Anglo-Eastern Univan Group, one of the world's foremost ship management companies. Headquartered in Hong Kong, with over 25 offices across Asia, Europe and the Americas, Anglo-Eastern has more than 600 vessels under full technical management, another 200+ under crew management, and some 450 supervised newbuildings and conversions to its credit. The group manages and provides technical services to bulk carriers, container ships, tankers, and heavy-lift, offshore and other specialty vessels.

Since the very beginning, Peter has been closely connected to the maritime industry, from specialising in marine engineering and naval architecture at Ghent University (followed by an MBA) to starting out his career at a Belgian shipyard, where he went on to head up the engineering department. From there, he moved to the Antwerp ship management group UBEM, where he held the position of Technical Director, before joining Anglo-Eastern in 1985.

In his more than 30 years with Anglo-Eastern, Peter has headed up the business in various capacities. While Managing Director, he successfully led a management buyout of the group in 1997, subsequently orchestrating mergers with Denholm Ship Management in 2002 and Univan in 2015, which served to further secure Anglo-Eastern's dominance in the ship management sector. After serving as CEO for over 20 years, Peter was appointed to his present role as Executive Chairman of the Board of Anglo-Eastern Univan Group.

An active member within the maritime and local business communities, Peter has served as Chairman of the International Ship Managers Association (1999-2001), Hong Kong Shipowners Association (2007-2009), and European Chamber of Commerce in Hong Kong (2011). He has also held membership on the INTERTANKO Council, Hong Kong Maritime Industry Council, and the Maritime Subgroup of the HKSAR Economic Development Commission. Peter continues to play an active role in the industry and general commerce as Vice-President of the BIMCO Board of Directors, and Chairman of the Belgium-Luxembourg Chamber of Commerce in Hong Kong.