Speakers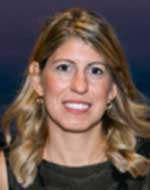 Danai Kotsia
Head of Lending Transportation,
Global, Transportation & Logistics Clients
ABN AMRO

Danai is the Head of Lending Transportation of the ABN AMRO Athens Branch.

Danai graduated from the University of Piraeus with a BSc in Business Administration and holds an MSc in Shipping, Trade and Finance from Cass Business School in London UK.

She started her professional career in 2000 as a shipping credit analyst in the Greek Branch of Citigoup located in Piraeus and in 2005 moved to the Athens Branch of Fortis as a Senior Manager.

Danai started working for ABN Amro in Greece in 2010 and since 2019, she holds the title of Head of Lending Transportation. At the same time, she was responsible for the upgrade of the office to a Branch in 2017 and also has the role of the Business Manager of the office.