Speakers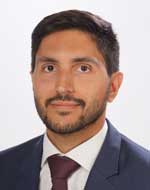 Giorgos Plevrakis
Director, Global Sustainability
ABS

Giorgos Plevrakis is an experienced professional in the fields of Marine, Energy and Oil & Gas Industry combining in depth knowledge that spans from power generation manufacturing to classification services.

He joined ABS in 2019 focusing on the challenges and opportunities related to the adoption of Alternative Fuels. He is now responsible for the Global Sustainability department and related efforts of ABS, working on creating the synergies and collaborative work necessary to lead to the implementatio of measures that drive operational efficiency and the adoption of new technologies, to meet the sustainability related targets.

Prior to that he was working as Business Development Manager for RINA Classification Society where he worked closely with shipowners on the implementation of the new environmental related regulations such a MRV,DCS,IHM,BWM,IMO 2020.

In 2011 he joined MAN Diesel & Turbo as the Head of Power Plants and Turbomachinery and Marine New Buildings Manager for Greece, Cyprus and the Balkan Region. He was leading a vast variety of projects on the upstream, midstream and downstream for Oil and Gas, new buildings and repair for Marine and development and construction for Power Generation and the Chemical Industry. Giorgos holds an MEng in Mechanical Engineering from the National Technical University of Athens and an MBA from the Athens University of Economics and Business.