Speakers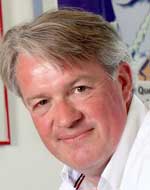 Robbert Jan Sougé
Founding Partner
Direct Ship Finance

Robbert Jan Sougé is a founding partner of Direct Ship Finance. He has close to 30 years of experience in shipping and ship finance.

Robbert Jan headed NIBC's shipping team 'West of Suez' and was responsible for corporate- and asset finance activities for the US, European and Scandinavian shipping markets. He started his 15-year ship finance career at ING Bank Maritime Industries.

In addition, Robbert Jan has close to 15 years of experience in general, financial and commercial management positions in the shipping industry in both the dry bulk and tanker space with De Poli Tankers (chemical tanker owner-operator), Van Weelde Shipping Group (dry bulk carrier owner-operator), Anthony Veder (gas tanker owner-operator) and Nedlloyd Lines (liner shipping division of the Nedlloyd Group).

Robbert Jan holds a BBA from Nijenrode, The Netherlands School of Business, and a M.Sc. from Erasmus University Rotterdam.