Speakers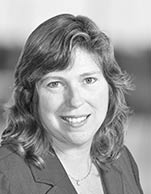 Molly McCafferty
Senior Manager, Insurance and Claims
Clipper Bulk USA LLC.

Molly McCafferty is the Senior Manager, Insurance and Claims, for Clipper Bulk USA LLC., an industry leader in dry-bulk with a modern fleet of approximately 100 handysize and supramax vessels. Previously employed with Thomas Miller Americas, Managers for UK P&I Club, and McCormack & Knoblock in Miami, she has over 20 years of experience in the Maritime Industry handling charter party disputes (both as Owner and Charterer), marine casualties, cargo and bodily injury claims, insurance coverage and other maritime disputes.

She is a graduate of Tulane University (1990) with a B.A in International Relations and a minor in Economics and holds a juris doctorate degree from the University of Miami School of Law (JD 1993). She sits on the Board of Governors of the Society of Maritime Arbitrators and on the Board of the Connecticut Maritime Association (CMA) Education Foundation.