Speakers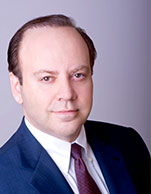 John C. Stratakis
Partner
Poles, Tublin, Stratakis & Gonzalez, LLP

John C. Stratakis, is a New York attorney and partner in Poles, Tublin, Stratakis & Gonzalez, LLP, a New York law firm established in 1957. His practice is concentrated in the transactional area, with a focus on international vessel purchases and financing, and company formation in various jurisdictions. He also advises international investors in the purchase and finance of New York real estate. He began his legal career as a law clerk to the Hon. Nicholas Tsoucalas, a judge on the U.S. Court of International Trade.

Mr. Stratakis has been a member of the board of directors of Navios Maritime Holdings, Inc., an international shipping company, since 2005. He is a member of the Maritime Law Association of the United States, and sits on the Boards of New York Maritime, Inc., the Hellenic American Chamber of Commerce, the Hellenic American Cultural Foundation and the European American Chamber of Commerce in the United States. He is also a member of the Advisory Board of the Center for Corporate Governance at the LeBow College of Business at Drexel University.