Speaker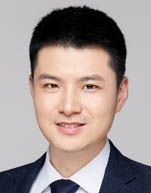 Owen Fu
Deputy General Manager
LISCR China

Owen Fu joined headquarters of the US-based Liberian Flag State at end of 2016. As the Deputy General Manager in China, he is responsible for supervising all routine works, especially technical-related issues of Liberian International Ship & Corporate Registry (LISCR) in China.

Owen graduated in Naval Architecture from Shanghai Jiao Tong University and is now working on his PhD programs. Worked for CCS and MSA respectively, Owen was engaged in ship inspection and regulation study. He participated in 9 national and provincial research projects, having published 19 papers.

As the person in charge of technical issues of the Flag State in China, Owen keeps a close cooperation with port states, classes, designers and shipyards etc., and wins support of the same. With impetus of Owen and his colleagues, competent authority of the Liberian Flag State is dedicated to high-quality, efficiency and innovation for providing secure, prompt and accurate maritime services and support to Liberian shipowners as well as their partners in China.