Speaker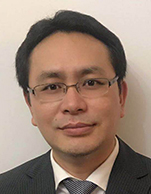 Steven Xiao
Director
Equator Fund

Mr. Steven Xiao, in his early forties, originated from Mainland China, is currently stationed in the Greater Bay region, as Executive Director of Equator Fund, a fund with prior investment focus on maritime, logistics, and new energy industries.

Mr. Xiao has over 22 years' working experience with 18 years particularly in investment, trading, shipping, logistics and supply chain areas. He has dedicated 15 years to working with IMC Shipping Group, looking after global commodity and investment sector, by integrating all relevant commodity supply chain elements from investment, shipping, logistics to marketplaces, while he also provided assistances to then Asian Shipping Tycoon Tan Sri Frank Tsao, Founder of IMC Shipping Group. He used to serve as 1st- -term Secretary General of the Singapore Center for Maritime Studies.

Travelling globally, Mr. Xiao has been stationed in different major cities particularly in APAC, like Singapore, Jakarta, Hong Kong, Shanghai, Guangzhou, Shenzhen, etc. with deep knowledge and understanding of multiple businesses and cultures.

Mr. Xiao received academic degrees of BA (English and Economics) of Sun Yat Sin University in Guangzhou, MSC (Maritime Studies) of Nanyang Technological University, MSSC (Int'l Studies) of National University of Singapore, and EMBA from China Renmin University in Beijing.