Speakers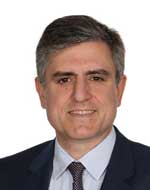 Konstantinos Petropoulos
Deputy General Manager
Piraeus Bank

Konstantinos Petropoulos is Deputy General Manager responsible for the Shipping and Structured finance Lending Units within Corporate and Investment Banking Group of Piraeus Bank.

Having worked for several financial institutions domestically and abroad, he has extensive experience in various areas of banking including project finance, shipping, corporate and real estate. Before joining Piraeus Bank in 2013, he was Director of Special Loans and Project Finance at Cyprus Popular Bank in Athens. Prior to that, he worked for 11 years at Hypovereinsbank in Athens in various managerial positions with emphasis on Project Finance and Advisory.

He started his career in banking in 1994 as an Assistant Vice President at Citigroup in New York in Global Operations & Technology. In 1996 he joined the Risk Management Unit of Commerzbank in Frankfurt.

Konstantinos Petropoulos holds an MBA in Finance and an MSc in Electrical Engineering, both from Columbia University in New York, and a bachelor degree in Electrical Engineering from the National Technical University of Athens.