Speaker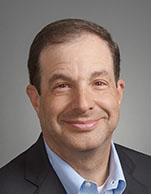 Gregory A. Friedman
Head of ETF Management and Strategy
Fidelity Investments

Greg Friedman is head of ETF management and strategy at Fidelity Investments. Fidelity Investments is a leading provider of investment management, retirement planning, portfolio guidance, brokerage, benefits outsourcing and other financial products and services to more than 20 million individuals, institutions and financial intermediaries.

In this role, Mr. Friedman is responsible for the development and execution of a firm-wide comprehensive ETF strategy, including product development, management, and positioning. Additionally, he leads the ETF Services group supporting ETF operations and management across the organization.

Prior to joining Fidelity in his current position in November 2012, Mr. Friedman was chief operation officer and head of Global ETF Product at Russell Investments. Previously, Mr. Friedman held various roles at Barclay's Global Investors, including head of Global iShares relationships, head of Product for US iShares, and senior portfolio manager. He has been in the financial industry since 1994.

Mr. Friedman earned his Bachelor of Arts degree from the University of California at Davis.