Speaker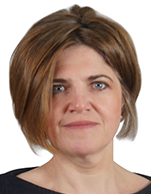 Svitlana Gubriy
Head of Global REIT Funds
Aberdeen Standard Investments

In her role of Head of Global REIT Funds, Svitlana Gubriy is responsible for global and regional listed real estate strategies at Aberdeen Standard Investments. In addition to leading the global real estate securities team, Svitlana's responsibilities include identifying new investment opportunities, managing investments, and implementing portfolio construction strategy for listed real estate. Also, Svitlana is responsible for setting agenda for fundamental equity research of listed real estate companies as well as analysis of underlying real estate markets across a range of geographies, including Europe, North America, Australia and Asia.

Prior to joining Standard Life Investments in 2005, Svitlana worked in the real estate investment banking division of Lehman Brothers in New York and private equity in Kyiv, Ukraine. Svitlana graduated with a Diploma with Honours in Applied Mathematics and holds an MA in Applied Economics from Southern Methodist University and an MBA from Simon Business School University of Rochester. She is based in Edinburgh, UK.