Speaker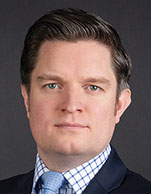 Luke Oliver
Managing Director | Head of Index Investing, Americas
DWS

Luke Oliver is one of the founding members of the U.S. ETF business, joining in 2009.

In his current role, Luke heads the team that manages all Index products in the Americas with $18bn in assets.

Prior to his current role, Luke served in a number of prominent roles including portfolio management, product development and capital markets.

Previously, Luke worked in Deutsche Bank's award-winning foreign exchange business in both London and New York.