Speaker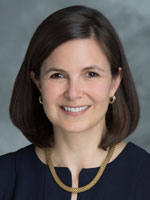 Mariana Fariña Bush
Managing Director
Global Manager Research
Wells Fargo Investment Institute
Wells Fargo & Company

Mariana Fariña Bush, CFA, is a managing director for Global Manager Research (GMR), a division of Wells Fargo Investment Institute. The GMR team selects and oversees the third-party money managers used throughout Wells Fargo's brokerage, private banking, family wealth, and retirement businesses.

Ms. Bush began her career at Furman Selz in New York as an associate analyst following technology companies long before the Internet became a household name. She joined the firm in 1991 as an analyst in Investment Strategy and has remained steady through five legacy firms following mergers and acquisitions over almost three decades. Ms. Bush began following closed-end funds in 1993, and she assumed coverage of exchange-traded products in the late 1990s. She has been widely quoted in publications such as Barron's, Bloomberg, and The Wall Street Journal, while being a frequent and active participant in industry conferences.

Born and raised in Peru, Ms. Bush earned a Bachelor of Science and Engineering from Princeton University. She is a CFA® charterholder and a member of the CFA Society of Washington DC, where she is located.