Speaker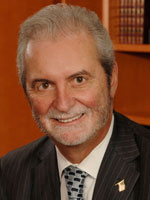 John P. Calamos, Sr.
Founder, Chairman and Global Chief Investment Officer
Calamos Investments

John Calamos is Chairman and Global Chief Investment Officer of Calamos Investments, the firm he founded in 1977. With origins as an institutional convertible bond manager, Calamos Investments has grown into a global asset management firm with institutional and individual clients worldwide. Headquartered in the Chicago metropolitan area, the firm also has offices in New York, San Francisco, Milwaukee and the Miami area.

Mr. Calamos established research and investment processes centered around a team-based approach designed to deliver superior risk-adjusted performance over full market cycles through a range of U.S. and global investment solutions including equity, fixed income, convertible and alternative strategies. As a pioneer in convertible securities, Calamos launched one of the first convertible funds in 1985 as a way to manage risk for clients in volatile times. He also established one of the first liquid alternative funds in 1990, reflecting a focus on innovation that continues to this day. Mr. Calamos has built a reputation for using investment techniques to control risk, preserve capital and build wealth for clients over the long term.

With more than 50 years of industry experience, he is often quoted as an authority on risk-managed investment strategies, markets, and the economy. He is a frequent speaker at investment conferences around the world and appears regularly on CNBC, Bloomberg TV and Fox Business Channel. He has authored two books, Investing in Convertible Securities: Your Complete Guide to the Risks and Rewards and Convertible Securities: The Latest Instruments, Portfolio Strategies, and Valuation Analysis.

Prior to entering the investment industry, Mr. Calamos served in the United States Air Force. During the Vietnam War, he served as a Forward Air Controller, with responsibilities for guiding accurate air strikes and preventing injuries to friendly troops. His squadron was the first to fly the Cessna O-2, an aircraft in which he recorded over 400 missions in combat. Captain Calamos was awarded the Distinguished Flying Cross for "extraordinary achievement while participating in aerial flight under heavy hostile attack." His Air Force career included five years of active duty flying B-52 bombers and twelve years in the Reserves flying A-37 jet fighters. He retired as a Major.

The son of Greek immigrants, Mr. Calamos is an active philanthropist supporting educational institutions and Hellenic organizations. He serves as Chairman of the Board of Directors for the National Hellenic Museum in Chicago. He is an investment committee member of the Faith Endowment, and a supporting member of the National Hellenic Society, Leadership 100 and The Hellenic Initiative.

In addition to receiving many awards for his accomplishments as an entrepreneur, he has been honored for his lifetime philanthropic contributions by organizations including the Pan Arcadian Federation of America and the American Hellenic Educational Progressive Association. He was inducted as an Archon of the Ecumenical Patriarchate with the Order of St. Andrew the Apostle in 2015. Mr. Calamos was the first Vietnam Veteran to receive the Jaharis Service Award from the Washington Oxi Day Foundation; and in his honor, the Foundation established the Calamos Service Award to specifically recognize a Vietnam veteran every year.

Mr. Calamos received a B.A. in Economics and an M.B.A. in Finance from Illinois Tech, where he established Endowed Chairs in Philosophy and Business and is also a member of the Board of Trustees. He received an Honorary Doctorate in Humanities from Hellenic College Holy Cross.