Speaker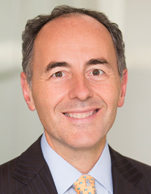 Jan van Eck
President and Chief Executive Officer
Van Eck Associates Corporation

Jan van Eck is the President and Chief Executive Officer of Van Eck Associates Corporation, joining the Firm in 1992 and its executive management in 1998. He has created a variety of strategic beta, tactical allocation, emerging markets, and commodity-related investment strategies in mutual fund, ETF, and institutional formats.

In carrying out VanEck's mission to anticipate asset classes and trends, in 2006 Mr. van Eck founded the Firm's ETFs business, branded VanEck Vectors ETFs. VanEck has become one of the world's largest ETFs sponsors, currently offering over 70 ETFs globally across a variety of equity and fixed income asset classes.

Mr. van Eck holds a JD from Stanford University and graduated Phi Beta Kappa from Williams College with a major in Economics. He has registrations with the National Futures Association and the Financial Industry Regulatory Authority. Mr. van Eck is a Director of the National Committee on United States-China Relations. He routinely appears on CNBC and Bloomberg Television, and was a 2013 Finalist for Institutional Investor's Fund Leader of the Year.