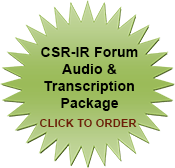 Forum Overview:

Companies and investors are increasingly looking at Corporate Social Responsibility (CSR) not only as a means of accomplishing corporate governance, but also as a measurable, concrete way to increase shareholder value and profits.
CSR is becoming a fundamental component of a company's business model meant to produce tangible and profitable results in response to stakeholder expectations. The need for increased CSR activities is not just mandated by a growing regulatory trend. Market forces also push in this direction as corporations demand their business partners to adopt and implement CSR policies of their own. A consistent CSR commitment and track record can become a differentiating factor and a competitive advantage from an operational, commercial and financial point of view, impacting a company's valuation and cost of capital, along with its overall profitability and long term viability.

Topics to Be Addressed:

Capital Link's Forum focuses exactly on how CSR impacts a company's valuation and cost of capital. In this context, three major topics will be discussed.
From the corporate perspective it explores how CSR can impact the valuation and cost of capital for private and publicly listed companies as investors and financiers may perceive them as safer and more sustainable financing and investment choices.
From the investors' point of view, it explores how CSR integrates among the investment criteria, what Socially Responsible Investing (SRI) is all about and its comparative return performance.
The third topic, explores the alignment of the CSR, IR and the overall corporate communications strategy, message and function. Also, the developments in the area of Integrated Reporting Standards and updates on Reporting Solutions, standards and guidelines.

Who Should Attend:

The Forum will target senior executives from the business, financial and investment communities in addition to the major CSR and financial media. As CSR spreads across several corporate functions, our Forum targets senior executives from various departments, such as Corporate, Finance, Marketing, Procurement, Communications, Investor Relations, Human Resources/Personnel and Corporate Social Responsibility departments. Also targeted are government and non-government agencies, associations and media that cover CSR.


C-Level Executives
Sustainability & Corporate Responsibility Officers
Investor Relations Officers
Risk Management Officers
Analysts
Portfolio Managers
Financial & Wealth Management Advisors
Academics
Sustainability Consultants

Fortune 500 Companies
Socially Responsible Investing (SRI) Funds
Asset Management Firms
Pension Funds
Commercial and Investment Banks
Hedge / Mutual & Venture Capital Firms
Insurance & Risk Management Firms
Foundations
NGOs
Academia
Auditing and Consulting Firms
Law Firms
Major CSR and Financial Media and Press