Speakers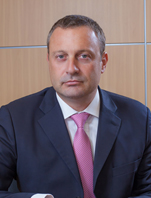 George Chryssikos
CEO
Grivalia Properties

George Chryssikos serves as Chief Executive Officer, Executive BoD member and Chairs the Investment Committee of Grivalia Properties. He joined the Company in early 2006 as Investment Manager & Investment Committee member and was elected in the BoD in 2007. In 2008, he assumed Managing Director's duties in the Company. He plays a leading role in the strategic planning of the Company and his contribution to the IPO and the Share Capital Increases of the Company, with most recent that of January 2014 has been crucial. Together with his team, George has so far completed real estate transactions of over €700mil., which involved acquisitions and disposals of assets in Greece and South-Eastern Europe, thus building up Grivalia Properties' portfolio.

George has founded Grivalia Hospitality, an €120mil. equity platform to deploy capital in the very attractive high- end hospitality sector in Greece and abroad.

George is currently Non-Executive Director in the Boards of Eurobank Group, Mytilineos and Praktiker Hellas.

In the past George was Managing Director of Corporate Value Partners, CEO of DTZ in Greece, BoD advisor at Iaso Healthcare Group and Senior Associate in McKinsey & Co at the London Office specializing in private equity. He has also experience in the construction industry in Greece, having worked as Project manager for more than 2 years in a specialized construction company.

George holds an MBA in Corporate Finance & Strategy from Columbia Business School (NY), an MSc in Engineering & Construction Management from UC Berkeley (CA) and a MEng in Civil Engineering from National Technical University of Athens. He is a member of the Royal Institute of Chartered Surveyors (MRICS). In his younger age, George was a National Champion in sailing and member of the Greek National Sailing Team for many years.