Speakers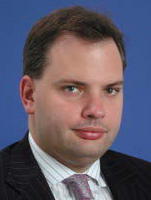 Alexander Pretzner
Managing Director
Citi

Alex is the Co-Head of Financial Institutions Investment Banking for EMEA, Head of Financial Institutions Investment Banking for Central and Eastern Europe, Middle East and Africa (CEEMEA) and Head of Corporate and Investment Banking Austria based in London. Alex has 18 years of experience advising financial institutions, having joined the Financial Institutions Investment Banking Group of Citi in London, and also working for a couple of years in the New York office covering U.S. banks and diversified financial services.

Alex has advised on key M&A and capital markets transactions in the Greek and Cypriot banking sector, such as the capital raises of Alpha Bank as global coordinator in 2013, 2014 & 2015 and Eurobank and NBG as bookrunner in 2014 as well as advising on the sale of Millennium BCP's Greek subsidiary to Piraeus Bank and Alpha Bank's sale of their Bulgarian business to Eurobank.

He holds a Masters in Law from the University of Vienna and a Masters in Commerce from the Vienna University of Economics and Business Administration and completed a Masters in Finance at London Business School.