Speakers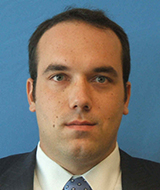 Georgios Triantafyllou
Executive Director
Investment Banking Services Greece and South Eastern Europe
Goldman Sachs

George Triantafyllou is an Executive Director with Goldman Sachs in London, responsible for the Bank's Investment Banking activities in Greece, Cyprus and South Eastern Europe since January 2015. Prior to that he worked in Goldman Sachs' M&A group in New York, where he worked on a number of landmark transactions in the Energy, Power and Infrastructure sectors. George started with Goldman Sachs in London as an associate in the Global Natural Resources Group in 2007 and was appointed Business Unit Manager from 2011-2012.

Prior to joining Goldman Sachs, George worked as an analyst for a consulting firm in Boston, MA from 2003 until 2006. He holds a graduate degree in business administration (MBA) from the Massachusetts Institute of Technology Sloan School of Management.