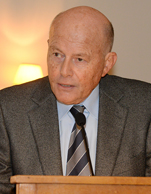 Nicolas A. Tsavliris
Principal
Tsavliris Salvage Group

Nicolas A. Tsavliris was born in London. He was educated at Athens College and thereafter obtained his Diploma in Shipping from City of London College (London Guildhall University), a Post-Graduate Diploma in Shipping Law from University College London and a Masters Degree in Law (L.L.M.) from the University of London. In addition he qualified as Fellow of the Institute of Chartered Shipbrokers, passing the exams with distinction.

Nicolas has been highly active in the shipping community, participating in the boards of various shipping organisations. He has served as President of the Hellenic Salvage & Tugowners Association as well as President of the Institute of Chartered Shipbrokers (Greece Branch). He has served on the boards of the Union of Greek Shipowners, the Hellenic Chamber of Shipping, the International Salvage Union and the European Tug Association, and he is a former Vice-President of the Hellenic Marine Environment Protection Association (HELMEPA).

In addition, he is Vice-President of the Hellenic-American Educa-tional Foundation.