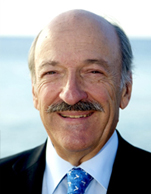 Nicky Pappadakis
Chairman Emeritus Intercargo
Chairman, A.G. Pappadakis & Co.

Past Chairman of the International Association of Dry Cargo Shipowners Born into a traditional shipping family with its roots on the Aegean island of Kasos, Nicky Pappadakis began his career with the family firm of A. G. Pappadakis & Co. in 1961, rising to head the company's chartering and operations.

Over the years characteristics of the group have included an international reputation for service, a consistent interest in building ships new, and a strong focus on the human factor.

Mr Pappadakis himself served periods at sea as an apprentice on tankers and dry cargo vessels, while he also qualified as an airplane and helicopter pilot. A keen interest in the aviation business has always run parallel to his love for shipping.

He was one of the first western shipowners to see the potential of China as a business partner and a builder of vessels, and he has maintained close relations with China ever since.

He has held numerous important industry roles in Greece based organisations. He is a past chairman of the Hellenic Marine Environment Protection Association, and until 2012 was a long-serving member of the board of the Union of Greek Shipowners. He has also been president of the U.S. Propeller Club International, Port of Piraeus, and vice president of the Hellenic Chinese Chamber of Commerce.

Among his work with international organisations, he has been president of the Malta International Shipping Council, a director of the Cayman Registry and has been on key committees of numerous classification societies.

He was elected chairman of Intercargo – the International Association of Dry Cargo Shipowners – at the association's 25th anniversary meeting. In this role from 2005 to 2012 he continued to demonstrate his ongoing deep concern and commitment for the sea, seafarers, safety and the environment.

Mr Pappadakis says: "Shipping is the most environmentally friendly mode of transport and it is critical to serving the needs of the planet, although this is all too easily overlooked.

"We Greeks are fond of the saying 'the sea gets sick but never dies'. This sums up our optimism that no matter what challenges are put in the way, there will always be a future for shipping.

"But at the same time every country's richest asset is its young generation and without the next generation we do not have a future," he says. "We must attract more young people to join the industry."