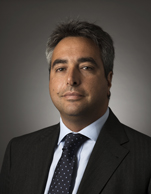 Giovanni Ravano
Managing Director, Shipping and Logistic Division
Bunge Group

Mr. Rabano joined Bunge in 2000 and since then held various commodity trading and management roles across Asia, US and Europe. From 2005 to 2009, he managed the commodity operation for the Mediterranean region and since 2009 lead Bunge's shipping and logistic operations globally.

Bunge is one of the leading Grain Trading companies in the world. We annually transport about 130 million tons of commodities worldwide, of which approximately 60 million on ocean going vessels.