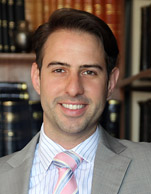 Christos G. Timagenis
LL.M. mult. (Cambridge, N.Y.U.)
Attorney-at-law (Admitted in Piraeus Bar, New York Bar)
Timagenis Law Firm

Christos Timagenis' advises shipowners, managers, ship-brokers, banks and various types of investors and his practice focuses primarily on shipping law (sale, purchase, financing and registration of vessels), shipping taxation matters, mergers and acquisitions, joint-ventures, general corporate and commercial law, financial instruments and capital market offerings. Mr. Timagenis is also involved in shipping and commercial litigation and arbitration cases.

He started at Timagenis Law Firm as a trainee lawyer and re-joined the firm in 2009 after having worked at the New York office of Wall Street law firm Sullivan & Cromwell LLP, practicing mainly corporate and securities law. Previously, he has also worked as a summer intern in the capital markets practice group at the London office of Shearman & Sterling LLP.

Mr. Timagenis is a member of the Piraeus Bar (Greece) and the New York Bar (USA); graduated from the University of Athens School of Law with a Degree in Law ("First Class Honours") and holds an LL.M. from Cambridge University - Trinity College and an LL.M. from New York University School of Law (being awarded a Fulbright scholarship and the Arthur T. Vanderbilt full-tuition scholarship). He is the author of several articles published in the Commercial Law Review of Greece and is often invited as a conference speaker on shipping corporate and taxation matters.