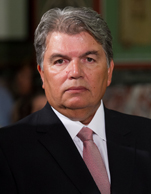 Anastasios Vamvakidis
Commercial Manager
Piraeus Container Terminal (PCT)

Anastasios Vamvakidis was appointed Commercial Manager of Piraeus Container Terminal (PCT), Greece, in 2009. As Commercial Manager of PCT S.A. he plays a vital role in promoting the Terminal and negotiating with Shipping Lines so as to further develop mutual beneficial contracts for both the Terminal and Shipping Line for using PCT as their main HUB in the Med, and amongst others, building long term relationships with the Business community.

Anastasios has a vast experience as a Shipping agent, since he activates in this field since 1973. In 1990, he was appointed Commercial Manager of Balkan & Black Sea Company, in Greece, representative of the National Bulgarian Company namely NAVIGATION MARITIME BULGARE and as of 1995, Anastasios held the position of General Manager in Balkan & Black Sea Company until his transfer to the COSCO group.

From 2000 until 2009, he was an elected member of the Board of the International Maritime Union, an association representing Shipping Agents of major Shipping Liner companies, while from 2003 he held the position of Vice President dealing with issues related to the Container Terminal of Piraeus Port.

Under this status Anastasios has contributed significantly to the establishment of good relations of PCT S.A. with the business market, such as Shipping Agents, Unions and Associations, Custom Brokers, Chambers, etc.